What the COVID-19 Yoga Boom Can Do for Your Business
Because of the COVID-19 situation, there is currently an increased demand for yoga supplies shipped from China. Savvy companies are aware of this and are looking for ways to take advantage of this change in demand. They're adapting to the changing marketplace during a time of global uncertainty in the world economy. Most yoga supply shipping and production takes place in China. Because of this, all importers for yoga supplies also looking for Chinese freight forwarders that can help them meet this demand quickly.
DFH Logistics is a Chinese shipping forwarder that is poised and ready to help sellers around the world with their shipping needs.
COVID-19 and The Yoga Supply Boom
By now, it's obvious that the Coronavirus has a widespread influence on nearly all areas of life, including how people exercise. Exercising in a gym or attending group exercise classes in a special studio is no longer an option for many people, as mass closures and safety warnings urge people to stay home. Because of this, many people are turning to at-home workouts instead.
Yoga has long been considered one of the easiest forms of exercise to begin. It is easy for newcomers and can be done nearly anywhere. As people struggle to adjust their lives to the new normal, yoga has greatly increased in popularity over a short period of time. More than ever, people are turning to yoga's relaxing and stimulating benefits to relax and stay fit during COVID.
But what does this mean for online businesses?
An at-home yoga practice can use a lot of products. From people who are completely new to their yoga routine, to dedicated yogis who are missing the variety of supplies and tools they would normally have access to at their yoga gym, customers need supplies to take their yoga practices to the next level. And they want online stores where they can obtain these supplies. Since most yoga supplies are manufactured in China, businesses must be up to the challenge to have these supplies available for customers around the world.
What Kind of yoga Products Are Consumers Looking For?
Every yoga practice is different, which means there's a wide variety of potential yoga products customers may be seeking. The good news for you is that no matter what your business currently sells, you can probably find a way to incorporate yoga products into your inventory. We have separated potential product lists into categories to help you match your customer base with products likely to sell well with them.
what yoga products can import from China?
These items are popular with beginners, so just about any direct-to-consumer business can carry them and they're likely to sell well. While you will ask me this question there are such large kinds of yoga products, then what kinds of them can be imported from China? Here below welcome to have a check some popular series for yoga supplies for your reference.
Basic yoga mats
This is an essential tool for nearly every person who begins a yoga practice. When import basic yoga mats, you should Consider carrying a variety of colors, thicknesses, and even sizes.
Mat bags or slings for carrying and storing yoga mats
Often overlooked by newcomers to the yoga product industry, these are important items for any yogi on the go. They're also important for storage to keep a yoga mat in good condition. Your customers will appreciate your shop as a one-stop location to buy a mat and a case in the same place. So when we make the purchase order to China yoga supplies manufactures, We need to import mat bags at the same time with yoga mats from China .
Yoga belts
Yoga belts are a valuable tool for beginners as they learn new positions. During you make the yoga belts order to China suppliers, Please Consider carrying a variety of colors, sizes, and materials.
Yoga blankets
It might seem silly, but many yoga practitioners use special yoga blankets in their workouts. Every China suppliers provide high-quality fabrics in both light and heavy weights. You can also import different kinds of yoga blankets from China.
How-To DVDs
Newcomers to yoga are eager for reliable sources of information for yoga instruction. if you add How-to Yoga DVDs from China suppliers. It's best to carry a range from beginner to advanced so your customers can find whatever they need.
Books about yoga
Look for books from reliable authors with credentials. Topics can include instructions on specific poses, yoga's history and cultural importance, journals for tracking progress, etc. The printed Yoga books or E-books related to yoga can be easily looked for from China Suppliers.
Books about meditation
Again, seek out books written by well-known, reliable authors. Topics can include meditation tutorials, the history of meditation, meditation's benefits, meditation tracking journals, etc.
Mat cleaning wipes or sprays
New yogis and sellers often overlook the importance of keeping yoga mats clean. Offer sprays, scented and unscented, as well as cleaning wipes. This will make your company a convenient location for all your customers' need. So please keep in mind to add the mat cleaning wipes or sprays at your purchase order for your China yoga suppliers.
Yoga CDs
Most yoga classes use guided meditations or soothing yoga music. There is a wide variety to choose from Chinese suppliers.so import yoga CDs from China is also a popular item for importing yoga products.
Hand towels to clean mats and wipe away sweat
These are another important supply sellers often forget about. import single towels or value packs from China, let yourself be outstanding with your competitors,then make your business goes more smoothly than others.
Appropriate attire
While yoga can be done in any comfortable clothing, serious athletes prefer special yoga clothing for their workouts and will pay good money for it. This can include, but isn't limited to:
Yoga pants, leggings, or shorts
Fitted yoga tops, sweaters, or cover-ups
Sports bras
Secure hair ties or headbands
Yoga socks, usually with grips on the soles
Yoga gloves, with grips on the palms and fingers
You can import all of the above listed yoga clothing items from china easily.if you don't know where to find good yoga clothes manufactures and don't know how to ship ship yoga supplies from China to your country,then you can contact with our DFH via Email at our website.We will teach you to get in to yoga products business from searching china suppliers to shipping from China to your office/factory/warehouse.
Advanced Products for yoga
You may want to consider carrying these items if your business caters to fitness gurus, athletes, or is in the wellness industry.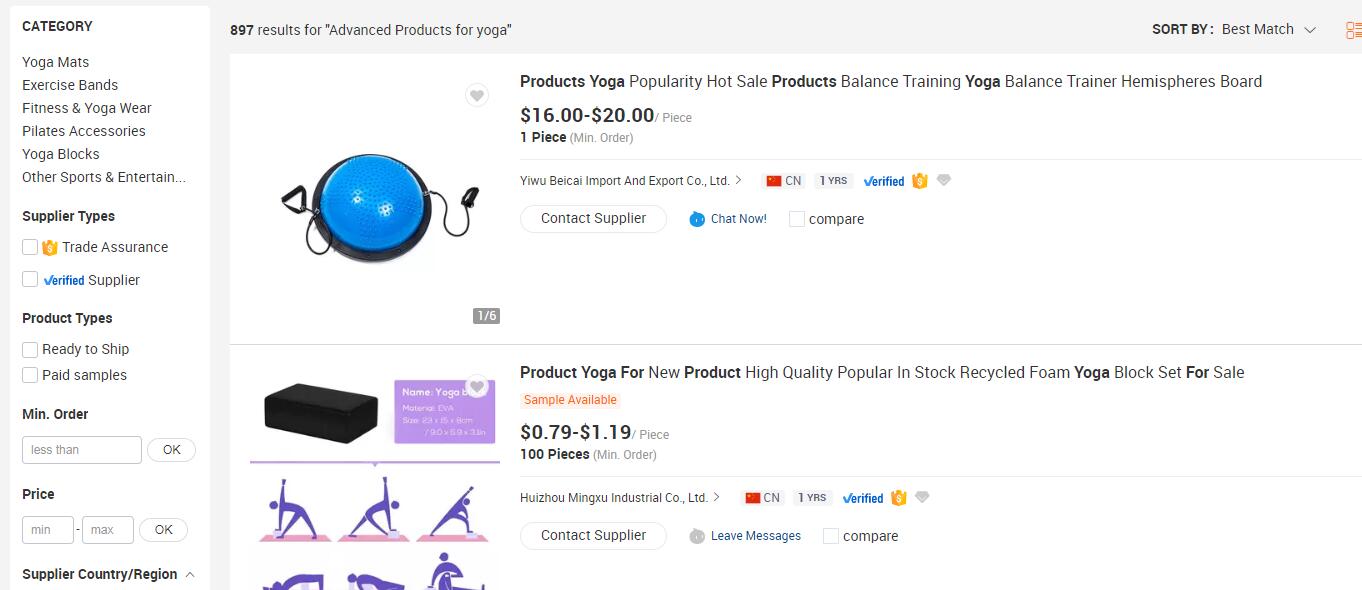 Premium yoga mats
Experienced yogis look for better yoga mats than beginners do. Look for suppliers that carry mats with extra cushioning, grip, and stylish colors or designs.while no matter which kinds of yoga mats, you can find the right suppliers within China mainland.
Yoga wheels
A valuable tool for advanced poses. Athletes used to the amenities of a yoga studio will seek these out in a variety of colors and sizes.if you want to import yoga wheels from China, then can reach out the suppliers from alibaba. there are large quantity suppliers for your choose.After checking the website, you will found that you can chat directly with suppliers. It is very convenient for you to looking for suitable yoga products suppliers.
Yoga straps
These help with poses and proper positioning. Offer a variety of lengths, widths, colors, and materials to entice customers.so when you distribute yoga straps from china,please provide different specification at length/width and materials,then The China suppliers can meet your import requirements.
Bolsters, sandbags, wedges, and blocks (made of foam, wood, or cork)
These tools assist with positioning and are very profitable. Having a mix of these in your inventory will have a high likelihood of customers purchasing multiple items, since they often go together. These are favored by serious athletes who are willing to spend a lot on their yoga practice.if need to ship Bolsters,sandbags,wedges and blocks for Yoga from China,then please protect them in suitable packages,otherwise the volume weight will be super big, that will make the shipping cost very high.
Special yoga chairs
These come in a variety of designs. Some have balance balls on the seats, some are made of plain wood, and others are lightly padded. Offer a range of designs so your customers can find what they need.
Knee pads
Offer multiple sizes that will fit men and women.you can import different kinds of knee pads from China Mainland to provide for Experienced yogis .as that not only help the yogis but also help to increase your business.
Toe spreaders
These can come in a variety of colors, sizes, and materials.a professional China Yoga accessories manufacture can provide these products for you.it is easy to make for them.
Fans or portable heaters
While not specific to yoga, these are important tools for temperature control and comfort in a home yoga studio. They range from small and inexpensive to large investment pieces.
Lighting systems
These are big-ticket items for those serious about their yoga practice. Offer systems with dimming capabilities to set ambience.
Exercise balls
This is a popular item throughout the fitness world. Offer multiple sizes (big enough to sit on) and colors.
Special neck pillows for use in a yoga or meditative setting
These are often filled with buckwheat, flax, or soothing herbs. Some can be heated or cooled for a temperature effect. Offer these as a luxurious and functional addition to a home yoga studio.
Small handheld weights
You can find a wide variety of small weights from suppliers in China. Look for sets of two and fuller sets with several different weights.
Luxuries and Ambience
Consider offering these products if your business sells lifestyle items, or if your customers are luxury-oriented. These can be a great tie-in to the wellness industry.also, No matter how luxurious or complex the product is, you can easily find a corresponding manufacturer from China.
Aromatherapy
Scents are often used to assist with meditation or to set the mood and can be found in a wide variety from Chinese suppliers. These include, but aren't limited to:
Scented candles
Incense sticks
Incense cones
Scented sprays
Essential oils
Essential oil diffusers
Eye pillows
These are used to add a touch of luxury and to help with meditation. Look for resizable varieties with washable cloth covers.
Chimes, bells, or gongs
These assist with meditation and facilitate yoga ceremony. A variety of Chinese sellers carry them.
Salt lamps
Salt lamps are very trendy and are said to purity the air and provide ambience.
Meditation chairs or cushions
Meditation chairs and cushions are big-ticket, luxurious items that customers are willing to spend large amounts of money on for quality products. They come in several varieties like zafu, zabuton, crescent, and v-shaped.
Healing crystals
Chinese suppliers offer a wide variety of crystals said to have healing properties. These are very popular with customers interested in yoga. One benefit to selling crystals is that customers often buy several of them, rather than just one or two – so carry a variety.
Yoga-inspired art, trinkets, or wall hangings
At-home yogis are looking for ways to make their home workout space feel special, beautiful, and relaxing. Offer a variety of soothing and eye-catching pieces. This is a broad category, which means you'll have an easy time finding a Chinese supplier.
Yoga boards
These are for the advanced, boutique-minded yogi. Carry them as a luxury item. If you're unsure where to source them from, we can help you find a supplier.
Want to Get Involved in the COVID-19 At-Home Yoga Boom?
If this sounds like an industry trend your business could benefit from, don't wait to jump into this trend.
Unsure where to start? DFH Logistics is here to help sellers who need help shipping yoga products from China to any country. Whether your business is new to selling yoga products and needs help getting started or is experienced at selling yoga products, but wants to transition to using your own forwarder to expand your business, DFH Logistics is well-equipped and ready to collaborate with you.
Advantages of Choosing DFH Logistics as Your Freight Forwarder
We are experienced in handling all types of shipments from China to countries all over the world, in all shapes and sizes. As a  shipping company. we're well-equipped to help you every step of the way as you embark on this new venture. If you're struggling to find a Chinese supplier who suits your needs, we even offer assistance in this area for prospective clients.
We also offer the following complimentary services to all clients, for your convenience:
24/7 customer service.
We have offices in Shenzhen, Guangzhou, Shanghai, Jiangxi, Tianjing, and Zhejiang. If your supplier's factory is located anywhere within mainland China, no matter which city it is in, we offer free pickup within 3 hours of pickup authorization.
If you have multiple suppliers, we'll pick up from each of their warehouses and package your goods together to save you shipping costs.
After picking up your goods from your suppliers' warehouses, we'll check all your product for quality before we send them out if you need us to do this.
We take photos of merchandise after pickup upon request.
If your goods aren't ready to send to their destination immediately after pickup, we offer free warehousing until they're ready to go.
We offer a free repackaging service for goods from suppliers, so you know your merchandise is always properly packed for safe, damage-free transit.
We can help to ship goods to any destination address.
We keep your customer information safe and never disclose confidential information to your suppliers.
Contact us to request a free quote today! We can't wait to work with you.
https://dfhfreight.com/wp-content/uploads/2021/01/yoga-mats-export.jpg
430
1500
DFH
http://dfhfreight.com/wp-content/uploads/2020/03/DFH-LOGO.png
DFH
2021-01-11 13:06:43
2021-03-21 19:32:57
What the COVID-19 Yoga Boom Can Do for Your Business