Top Sea Freight Forwarder In China
The Best Price and Service help you shipping goods from China
• Competitive shipping rates that help you save money
• Experienced staffs who provide you with all the assistance you need
• Online booking services and an end-to-end shipment visibility status for lower operational cost
• Country of origin value-added services to improve supply chain value
• Cross-border e-commerce logistics such as Ocean delivery, small parcel delivery FBA air delivery, last-mile delivery and overseas warehousing to keep your cargo safe
• DDU/DDP services to Canada and the United States
• Open LCL services and last-mile delivery
• Warehousing services and container stuffing
• Custom brokerage services
• Container tracking while in transit
• Packing services
• Freight pallets
• Worldwide shipping to any country or continent
• Extensive sea transport solutions
Contact DFH Global Logistics for Best Rate
The Best Freight Forwarder in China
The Ultimate Sea Freight Shipping Guide For Importing Goods From China
The Best Price and Service help you shipping goods from China
If you are looking for a guide to learn how to transport goods from China to your business partner, then you have landed on the right page.
Dong Fang Hong (DFH) Global Logistics Company is a Chinese-owned trusted Sea Freight Forwarder company. We are offering reliable sea freight forwarding services from China to the whole world. We have an extensive and integrated network of operations that makes it meet all your logistics and shipping needs.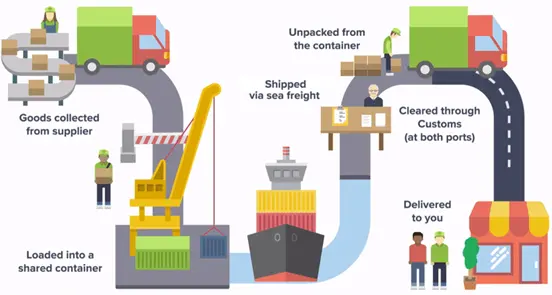 We have provided this sea freight guide for your convenience. This guide will equip you with all the vital information that you need to ship your goods from China to the world.
What is Sea Freight?
Types of Sea Transport
How does sea freight work?
Sea Freight Incoterms
What is ocean freight forwarding?
Advantages and Disadvantages of Sea Transport
Main Sea Ports in China
Ocean shipping routes from China
How to calculate sea freight cost?
Transportation of dangerous goods from China by sea
A step by step guide to the International shipping process
Why choose DFH Global logistics?

What is Sea Freight?
Sea freight refers to a method of transporting large quantities of goods via cargo ships. The goods are usually packed in containers and then loaded on a vessel. They are then sailed to their destination country. A typical cargo can carry 18,000 containers at a time.
Sea freight is a popular mode of transportation opted by people involved in global trade. This means of transportation accounts for 90 percent of the global movement of goods. It is also the cheapest mode of international shipping.
Ocean Freight
Sea Freight is also referred to as Ocean freight. There are numerous advantages of opting for ocean freight. It is a cost-effective form of transport and is crucial for operations and supply chain management for a global chain.
Heavy goods can be easily shipped overseas because of large storage capacities. Moreover, it is the most environmentally friendly form of transport.

Types of Sea Transport
You can have your goods shipped from China to other nations in numerous ways. The basic terminology used while shipping is checking how many containers would be needed to transport your goods.
Containers play a crucial role in transportation over the sea. Choosing a container type for a shipment is a decision that one cannot weigh lightly. DFH your trusted sea freight forwarder in China provides a wide range of options to its clients. The most sought after methods have been described in this guide.
Full Container Load [FCL] Sea Freight
DFH provides FCL Freight services to major ports in the world. In Full Container Load freight service, we load a single shipment in a single container that generally measures 20-45 ft. in length and has an internal capacity of 28-75 cubic meters. If you have a large shipment, you can opt for this service.
With over 10 years of experience in transportation, freight, and customs brokerage, DFH specializes in shipping all kinds of goods including perishable and hazardous ones.
Key Features of our FCL Service
The container is loaded and sealed as the service is opted by a single client

No stops in between

Quick delivery of the consignment as there are no frequent stops

Safe and reliable shipping method
Less than Container Load (LCL) Sea Freight
We offer LCL Sea Freight service to companies that have to ship goods in small quantities from China to other ports anywhere in the world.
In this kind of freight, several shipments share a container and are split at their destination. This container is chosen for small cargo volumes. Here a group of moderate volumes of goods belonging to several shippers is filled in a container. The only drawback is that there are frequent stops are many consigners have loaded their goods in a single container.
You can opt for LCL sea freight service if you don't want to send a bulk order. You can customize solutions tailored as per your needs with DFH.
Key Features of our LCL Service
Cheaper in comparison to FCL service

Helps you rationalize shipping costs

You pay for just the space that your goods take-up
You can contact DFH the Sea Freight Forwarder In China today to learn more about our LCL services.
Bulk Cargo
Bulk cargo ships are used for shipping wood, grains and other materials in large quantities. These are loaded on and off at special ports. An average bulk cargo measures 800 feet in length.
Heavy Lift Cargo
Heavy Lift cargo consists of oversized equipment or structures that cannot be shipped by dismantling them. Examples of heavy lift cargo include specialty vehicles, compressors, generators, turbines, parts of oil rig, construction equipment among others.
DFH a dependable sea freight forwarder In China ensures safety at every step while transporting oversized structures for the clients.
Roll-on/Roll-off Cargo
Our RORO or Roll on Roll Off cargo services allows our client to directly drive onto the ship with the goods. They are secured safely for the journey and ultimately drive off at the destination.
Competitive rates on freight packages

Immense experience in the freight industry

Guidance on how to proceed with the shipping and which service to opt for

Constant supervision of every shipment
Dangerous Goods
DFH offers assistance in shipping dangerous goods such as chemicals and highly inflammable liquids that can be shipped only after securing special permits. The services offered by us cover customs clearance, dangerous goods certification, repacking cargo, end-to-end delivery, freight consolidation, and wide-scale distribution.
Get in touch with us to opt for a customized plan as per your requirements.
DFH Logistic Sea Freight Forwarding Services
Dong Fang Hong (DFH) Global Logistics Company provides the best professional logistics services from China to the world. Having survived and thrived immense competition in the freight industry makes us the perfect candidates to team up with.
We have an extensive and integrated network of operations for meeting all your shipping and logistics needs. As leading freight agents, we can deliver your shipment from China to any destination across the globe. You choose and we do it for you.
We offer quick, reliable and affordable sea freight shipping rates.

How does sea freight work?
It is common for companies to turn to experts in the field in order to ship their bulk goods safely and legally. Choosing a reliable company is essential as customs and import processes are quite complicated. Any mistake in the process can prove costly and hence in order to ensure everything moves smoothly, it is essential to rely on a trusted name.
DFH has been in the sea freight industry for a decade. We have all the knowledge that you need to ship your order anywhere in the world through China.
Here are the basic steps involved in arranging a sea freight shipment.
Request a quote for your service from DFH

Choose a suitable freight service

Provide the goods to the company

Shipment moves to the port and then passes through customs at the point of origin

Goods are loaded into specific containers

Goods are passed through customs again at the point of destination

Duty and taxes are paid and the goods are released and delivered
Sea Freight Incoterms
Incoterms or International Commercial Terms are basically terms mentioned in the international trading rulebook. These terms may be a bit confusing and overwhelming for individuals who have little or no knowledge of the freight shipping process.
Each incoterm is associated with a specific set of responsibilities and rules that each concerned party in international needs to adhere to. These terms have an impact on your insurance costs. We use these terms to specify the details of the shipping agreement.
EXW
EXW stands for Ex Works

The seller is responsible for loading the goods at the premises

The maximum obligation is on the buyer as the seller is responsible for just shipping the goods

Buyer needs to ensure the safety of the goods
FOB
FOB stands for Free on Board

Under these terms, the seller has to bear all the costs and risks up to the point where the goods are loaded on to the vessel

The seller takes care of boarding the goods on a vessel as chosen by the buyer

The seller needs to arrange for export clearance as well
CFR [Cost and Freight]
The seller is required to pay for the carriage of goods up to the designated port

Risk transfers to the buyer when goods have been loaded on the container in the country of Export

The shipper takes care of origin costs, freight costs and also exports clearance.
CIF [Cost, Insurance, and Freight]
Almost similar to CFR

The only exception is that the seller needs to procure insurance for goods being shipped

The seller has to insure the goods for 110 percent of the contract value as per the standard norms
What is ocean freight forwarding?
Ocean freight forwarding refers to safe and effective transportation of freight from one destination to another.
Ocean/Sea Freight Forwarder
An ocean freight forwarder refers to a company that is aware of the basics of effective and safe transportation of the freight. Freight forwarders are basically middlemen who take care of the complicated aspects of the shipping process in order to deliver goods to their destination.

Advantages and Disadvantages of Sea Transport
Regardless of the kind of transportation mode chosen, you will always find both positive and negative aspects associated with them. Sea transport has certain limitations too despite the advantages offered.
Sea freight services are more cost-effective in comparison to air and surface freight. While running a business in international trade, you would obviously want to lower your cost of operation. This will ensure success in business and good revenue.
Lowering operational costs allows you to sell goods at an affordable price. This will give you an edge over your competitors. Hence, sea freight shipping is an ultimate solution for businesses importing goods from china.
Cost efficiency is the hallmark of sea freight shipping. Also, you can ship bulky goods over long distances.
Advantages
Less Maintenance Cost

Is quite cheap in comparison to rail and road transport

Beneficial for transporting bulky and dangerous goods

Can be a great mode of transportation when rail and road are affected due to natural calamities such as flood or earthquake

Plays a crucial role in foreign trade
Disadvantages
Shipping by sea is slower in comparison to other transportation modes

Bad weather can result in delays

Routes are inflexible

Further transportation overland is required for the goods to reach their final destination
Main Sea Ports in China
China is home to over 34 major and 2000 minor ports. The ports enable transportation of goods between islands and the mainland and also offer deep water access to the sea. The country has a strong network of the container transport system and is playing a crucial role in global trade by participating in and as well as providing spectacular sea freight services.
DFH has emerged as a leading sea freight service provider from the ports of China. We have a stronghold over our offering and are dedicated to offering valuable services to our local and global clients. Here are the major ports of China we provide our services from.
Shenzhen Port
One of the fastest-growing and the busiest container ports in the world

Home to 39 shipping companies that offer 131 international container routes
Guangzhou Port
Major seaport of Guangdong province of China

Operated by Guangzhou Port Group Co. Ltd

The largest port in South China

Serves as a vital economic and transport center in the region

Is a major transit hub for industries located in the neighboring provinces
Tianjin
The largest port in Northern China and serves as a main maritime gateway to Beijing

Largest manmade port in mainland China.
Shanghai
This port comprises of a river port and a deep-sea port

Declared as the busiest container port in the world in 2010

Managed 37 million TEUs in 2016 setting a historic record
Other popular ports in China that we deal from are Ningbo, Qingdao, Dalian, and Xiamen.

Ocean shipping routes from China
DFH ships from China to the major ports in the world. The primary routes have been covered in the table below.
From China

Asia included India, Malaysia, Vietnam, Philippines, Singapore, Thailand, Japan, and South Korea

Europe, UK, Germany, France, Russia, Poland, Netherland, and Spain

North America, USA, Canada, Mexico

South America, Brazil, Argentina, Chile, Peru

Africa, Algeria, Egypt, Kenya, South Africa, Nigeria

Middle East, Saudi Arabia, Kuwait, UAE, Qatar, Bahrain, Turkey, Israel, Jordan

Oceania, Australia, and New Zealand
How long does sea freight take?
DFH provides you an estimate of the transit time based on your freight order. Like any other form of international shipping, sea freight has its own set of challenges. Sometimes, delays become inevitable. The common reasons for the delay are
Bad weather affecting the traffic

Congestion at the ports

Holidays affect import schedules from China

Issues with customs clearance

Multiple stores in vessel routes

Unavailability of space in the vessel booked
Sea freight is one of the slowest means of transport. However, we can provide an estimated time of arrival schedule when we ship your order from China to the ports.
Destination
Shipping Time

Europe

25-27 days

USA and Canada

20-30 days. More than a month in some cases

South America

30-45 days

Africa

30-45 days

India

Due to close proximity, goods from

China get delivered within 15 days

Australia

15 days

South-east Asia

9 days

South Korea

4 days
Estimate transit time is estimated based on the carrier, the shipping route and the distance between China and the destination port.

How to calculate sea freight cost?
Freight rates are not fixed. They are dependent on several factors.
The weight of cargo significantly impacts the shipping cost. The weight of a container is determined by combining the mass with the height of the cargo. A scale is generally employed for determining these factors. Items being shipped in crates are assessed in a different manner.
The cost of crated items is estimated depending on height, weight, and length. If you are shipping on pallets, then the rates are estimated based on the load.
The distance between the shipping countries to the target location also impacts the freight rates. Shipping from China to India would cost less than it would cost to ship from China to Canada. Distance and the challenges associated with shipping will also be taken into consideration for estimating the freight rate.
Type of goods to be shipped
Bulk cargo attracts more costs for international shipping in comparison to smaller cargo. Furniture, large electronics, heavy machinery, and hazardous goods can attract more freight charges. This is largely because of the cost of crating required to transport such goods.
You can always contact the DFH team and request a quote in order to receive a detailed freight cost breakup.
Sea Freight Rates Calculator
You can also utilize a calculator for getting a crude idea about the shipping rates. There are plenty of resources available over the web that can help you estimate sea freight rates. A freight rate calculator does not promise you accurate results. The value shown to you is dependent on the information that you feed before estimating the charges.
You will have to enter basic information such as date and time of shipping, cargo origin and destination to get a rough estimate of freight charges. However, there are several other factors influencing the overall costs.
Sea freight container dimensions
DFH adheres to the following container dimensions and capacities.
| | | | |
| --- | --- | --- | --- |
| Container Size | Weight (Tons) | Dimensions | Maximum Capacity (cbm) |
| 20' GP Container | 22 | 5.898×2.352×2.385 | 28 |
| 40' GP Container | 27 | 12.032×2.352×2.385 | 58 |
| 40 HC Container | 27 | 12.032×2.352×2.69 | 65 |
| 45 HC Container | 27 | 13.556×2.352×2.698 | 75 |
Sea Freight Insurance
It is mandatory for a freight forwarder to get insurance over every shipment being made. This is however dependent on whether insurance is included in the freight service or not. No insurance company covers all aspects of shipping. The customers need to verify the insurance policy over a shipment.
DFH provides freight insurance when you choose specific shipment types. The insurance policy provides coverage over breakage and damage. It is necessary to be backed by insurance in order to prevent exposing yourself to unpredictable problems.
The insurance cost is estimated by estimating the value of goods and the value of freight. Based on the category, a charge of 0.1% is used as the insurance amount.
Sea Freight Quote
DFH Global Logistics the cheapest sea freight forwarder in China provides a full range of international shipping solutions. You can contact us anytime for a free shipping quote. You need to be careful in choosing a logistics partner in China. Some companies do not pay heed to customer requirements and this may lead to misunderstandings.
You can benefit by teaming up with experienced and professional freight forwarders like DFH Global Logistics. We provide support at every step of international shipping and also offer assistance on the administrative parts such as customs clearance.
DFH Global logistics a reliable sea freight forwarder broker offers air, rail, express, and trucking transport. We also offer air and rail freight services. You can choose a shipping mode based on your requirements and budget. Airfreight is faster than sea freight but is quite expensive.
Rail freight is also expensive but cheaper in comparison to air freight. DFH has been operating for over a decade now. The company has a strong network and expertise in international shipping. We also offer the best trucking services in the market.
Packing Service
The first step in any successful shipment is appropriate packaging. Your shipment has to be protected thoroughly so that it can go through various stages of the chain. Your goods have to be shipped to the port of loading from the factory in China. Then the contents are loaded into a container. It has to be transported to a warehouse after reaching the destination. Decent packaging ensures the safe shipping of your goods.
DFH provides excellent packing services and adheres to the international packaging specifications depending on the nature of the goods being shipped.
Carton, pallets & wooden crates
All shipping companies including DFH have set maximum weights for containers. The dimensions of the carton box decide how many cartons would be loaded per pallet and how many pallets could be accommodated per container. If we consider industrial pallets of a standard dimension of 100×20 cm, then you will be able to load10pallets in a 20 feet container and 22 in 40 feet container. Once you are aware of the pallet and container dimensions, then you will be able to decide the most suitable container shipping option for your goods.
Free Warehouse
DFH provides a free warehousing service for any kind of product. We provide state-of-the-art warehousing space for our clients.
Goods can be stored at our facility for a definite period before shipping depending upon availability. Constant surveillance at our warehouse guarantees the protection of your goods.
Our company is proud to offer convenient storage points with a multitude of options. We also allow customized and unique warehouses for customers that are shipping hazardous or highly sensitive goods.
Whether you are looking for maximum security for storing your precious goods or require refrigeration service, we provide all that you need. Our warehouses are monitored by skilled staff thereby ensuring successful operations for your company.
The key features of our warehouse are:
24×7 CCTV monitoring and security

Exceptional warehouse management system

Online inventory access

Specialized structures for handling and storing high-value cargo

Special equipment for material handling

24×7 fire control

Pest controlled warehouse
Transportation of dangerous goods from China by sea
Some goods are categorized as dangerous. You may be surprised to learn that laptops, phones, products with lithium batteries, perfumes and aerosols are all considered to be hazardous. There are primarily nine categories of hazardous products in the shipping industry. You can contact the DFH team to learn more about the procedure for shipping hazardous goods.
Custom Clearance
Customs clearance is a crucial aspect of international logistics. Goods cannot leave a country or gain entry into another without the authorization from the customs office. Proper documentation is expected while shipping internationally. The most important documents needed for customs clearance are
Commercial invoice

Packing list

Bill of lading

Insurance certificate
Your freight forwarder or the customs broker would be responsible for processing all the vital documents. The customs officials will inspect the goods for estimating payable taxes and duties.
Bill of Lading (BOL)
A bill of lading is believed to be the most crucial documents required while shipping internationally. It is the certificate provided by the shipping company to the consignee. This serves as proof that the goods have been received from the warehouse and have been boarded on to the container. This serves as evidence for the transportation of goods. It covers all the terms and conditions governing the shipping agreement.
Commercial invoice
A commercial invoice would be offered to you when you purchase goods from China. This will show the kind and amount of goods purchased. This document has details of both the buyer and the seller. A commercial invoice is generated once the sale is made. It will help you clear the customs at both the departure and the destination ports.
Packing List
This list provides details of all the items that have been included in the shipment. It is extremely detailed and you cannot miss out on anything from this list. It clearly specifies the materials included in the package and the kind of packaging used for each item. It also includes the dimensions and weight of each package present in the shipment. Customs officials in China will use this list for verifying the contents of the shipment.
Certificate of Origin
This document consists of details related to the origin of the items being shipped. This is used basically to verify the origin of the goods being shipped to another country. It is also used sometimes for evaluating the tariff.
Insurance Certificate
If the goods being shipped by you are insured, then you will be given a certificate as proof. This will assure you that compensation would be offered if the goods are damaged or lost during transit.
Shipping insurance is quite affordable and ranges between US$50 – US$100. The insurance covers the value of the cargo in case there is any damage during transportation. However, it will not cover product development costs or lost sales.

A step by step guide to the International shipping process
International shipping has become an integral part of global trade today. However, the shipping process is a bit complicated.
You have to source goods, transport them to the port of departure and get a customs clearance certificate. These steps seem tedious if you are the first-time sipper. If you want to know the process in detail, then go through this guide.
Step 1: Transport goods from the supplier to the warehouse
This is the first step when you are choosing to import goods from China. You have to source the products from the manufacturer. You can choose the port. Once a sale had been made, you need to identify a reliable freight forwarder.
If you choose DFH, we will assist you in arranging for the transportation of your goods from anywhere in China to your chosen destination. The goods have to be moved to our warehouse. This is where they get loaded into the container for shipment.
Either the supplier can take care of shipping goods to the warehouse or you can rely on our services. This will be dependent on the incoterms agreed to in the shipping contract.
Step 2: Moving goods from warehouse to the port of departure
Once the goods have reached the warehouse, they undergo several processes. These include
Offloading the goods from the truck

Inspection of goods

Packaging them with the right materials
Once the goods have been packed, they are loaded on a shipping container. This could be a full container or a consolidated one based on the option chosen by you.
Step 3: Custom clearance at the port of origin
Customs clearance is the most important part of international logistics. Goods cannot leave a country until and unless they have the authorization from the customs office.
For instance, if you are importing from China to India, the goods will leave the port only after producing proper documentation. The same will be expected at a port in India.
You will not be able to claim ownership if the officers do not clear them in India. Hence, custom clearance has to be taken seriously.
The important documents needed for international shipping are:
Commercial invoice

Packing list

Bill of lading

Insurance certificate
The best thing is that you do not have to worry about the above-mentioned documents. DFH processes all these so that you can ship your goods in a convenient way. Rely on us as your shipping partner for a hassle-free trade from China.
Once the documents have been processed, the customs officials will inspect the goods. This is done to estimate the duties and taxes payable. Customs payments can be made online or through a check or credit card.
You will pay duties and taxes if it is your responsibility as per your shipping agreement. Else, the seller will have to take care of it.
Step 4: Goods are shipping from the port of origin to the destination
Once the goods are cleared by the customs officials, they are loaded on a container and shipped. If you choose a reliable freight forwarder, they will ensure that the entire process is smooth.
DFH has years of experience and will be your best shipping partner if you are shipping from China. We will ship the goods to the chosen destination at affordable rates.
Step 5: Clears customs at the destination
You need to remember that you have all the necessary documents ready to clearing the entry of goods at your chosen destination. The customs officials will again inspect the goods imported. This is done to restrict the entry of prohibited goods. You will have to pay taxes and duties at the destination port as well. This has to be done before the arrival of the shipment.
Step 6: Inland transportation from the port to the warehouse
Once the goods have been shipped successfully to the destination and cleared by the customs, you will have to transport them to a warehouse. You need to have all the documents ready in order to request the release of your goods.
If you have hired a freight forwarder, then they will take care of the process for you. They will ensure the release of your container from the destination port.
The process is pretty simple if you rely on the right shipping partner while importing goods from China.
FAQs
What is sea freight shipping?
It refers to the transportation of goods to various destinations across the globe by water. It is basically done using sea vessels where goods are loaded on containers and then shipped.
Are there surcharges in sea freight?
Yes. Sea freight surcharges include security, fuel surcharges and a lot more. Documentation fees and container delivery charges are also incurred when you are shipping goods from China.
What is a container yard?
This is the facility in ports where the containers get stored, loaded and offloaded.
FOB refers to free onboard shipping. Here the responsibility of goods passes to the buyer once the seller has loaded the goods on the carrier ship. The buyer has to bear the responsibility at the destination port.
What are the documents needed for shipping from China?
Bill of lading, packing list, commercial invoice, and certificate of origin and declaration form for hazardous goods are required while shipping from China.
What is a bill of lading?
BOL serves as evidence of a contract between a shipper and the shipping company. It shows that the goods have been received by the shipping company at a designated port.
Who issues freight documents?
It is basically issued by either the supplier or the freight forwarder.
Yes. However, the liability is limited by the sea freight carriers.
How long will it take for my shipment to deliver?
It depends on plenty of factors. It may take from a couple of days to months based on your destination port.
Are there any restrictions over imports from China?
Yes. There are restrictions over all kinds of shipping. Hazardous goods are often restricted in china. However, if the provider allows, then you need to have a declaration form and clearance certificate.

Why choose DFH Global logistics?
DFH will assure you the right shipping solutions for your goods from China. We are the most experienced sea freight forwarder in China.  We have immense experience in shipping all kinds of goods from China by railway, air, and sea. We ensure security throughout our process. Competitive rates for delivering goods worldwide. Our professional team will manage all your shipments from China. Get in touch with us today and request a quote. We offer 24/7 assistance to our clients.
We have long term partnerships with core carriers including MSK, CMA, HPL, COSCO, OOCL, YML, EMC and many more.

We don't just offer competitive rates but also deliver quality service to our clients

A company backed with experienced staff

We provide online booking and end-to-end visibility of shipment status

We also offer value-added services at our own warehouse

DDU/DDP service to US/Canada

Customs brokerage service
Contact DFH Global Logistics for Best Rate
Your Best Freight Forwarder in China