Contact DFH Global Logistics for Best Rate
The Best Freight Forwarder in China
How to Ship Household Cleaners From China
The Coronavirus pandemic has greatly increased people's consciousness of how clean or dirty their homes are. They're disinfecting the surfaces in their homes more than ever before.
At the same time, in many areas, businesses need to clean and wipe down surfaces in order to stay operating. For instance, in the United States, the Center for Disease Control recommends  "surfaces and objects in public places, such as shopping carts, point of sale keypads, pens, counters, vending machines, and ATMs should be cleaned and disinfected before each use or as much as possible."
As a result, both individuals and companies are purchasing more household cleaning products than ever. And this isn't likely to go away, even after COVID. People are more aware of germs and the cleanliness of public and private places than ever before. Even after the outbreak is under control, that consciousness won't disappear.
This is a guide for businesses who want to start shipping household cleaners for sale around the world. We'll guide you through how to ship household cleaners from China, explain why China is the best place to source cleaning supplies for resale, and how to find a Chinese freight forwarder.
Where to Import Household Cleaners
While demand for household cleaners has increased worldwide (particularly in areas with the most intense COVID-19 responses), not all areas consume household cleaners equally. To help you identify which countries have the highest market for household cleaners, and of what kinds, we recommend hiring a market research consultant or purchasing access to a report on recent market trends. These can be invaluable in deciding where to focus your energies.
Why Import Cleaning Products Made in China Instead of Other Countries?
China has been the world's largest exporter of goods since 2009. Most recent estimates show China as exporting $2.641 trillion worth of goods in 2019 alone. It's become known as "the world's factory."
Why does this matter to you as a business owner? As the world's largest exporter of goods, that means you can find just about anything your business could want to offer sourced in China. Instead of handling multiple suppliers in different countries to find the products you need for your business, you'll be able to find everything your customers want, all sourced from China.
Is it Safe to Buy Wholesale Household Cleaners from China?
Yes. Just like your business does with any other product, vet your suppliers carefully. Make sure the product they're producing is quality, safe, and effective to ensure your customers are safe and satisfied. A competent supplier will know the safety regulations and industry standards for their product and will be glad to talk to you about their product and what regulations it adheres to.
What Kind of Household Cleaners Should I Offer My Customers?
Bleach
Bleach is a very popular choice for household cleaning. It's an effective disinfectant, easy to use, and has been in use for generations, so people are familiar with it. Chlorine bleach is the most common variety right now, but non-chlorine bleaches are rising in popularity because they're safer to use and easier to store.
Glass Cleaner
Glass cleaners are designed to clean glass, like windows, without leaving streaks, lint, or chemical residue from the product. Glass cleaners usually come in a liquid form, often in a spray bottle or aerosol can. Note that aerosol cans are generally subject to more stringent shipping regulations than spray bottles are, and may not be able to ship via air freight.
Toilet Bowl Cleaners
Toilet cleaners come in a variety of forms – thick liquids, gels, fresheners, and in-tank cleaners. These products often also disinfect, in addition to cleaning. Because they need to be highly effective cleaners to kill germs, they often contain several harsh chemicals and should be handled and stored with care.
Vacuums
Vacuums come in handheld and push designs – many households have both and use them in different circumstances. These are used to clean floors – most often carpets, but many also work on hardwood or tile floors. Robot vacuums that clean automatically are a relatively new development in the home cleaning industry.
Disinfecting Wipes
Disinfecting wipes that contain bleach or other disinfectants are extremely popular, both in homes and in business and public settings. They're convenient, effective, easy to use, and can be used on a variety of surfaces. These are especially in-demand during the Coronavirus pandemic.
Duster
These are used to remove dust from surfaces. Some have adjustable-length handles to clean hard-to-reach places. Some duster heads are machine-washable, while others are disposable (if you stock dusters with disposable heads, also stock replacements for your customers). Liquid dusting aids like sprays or oils are also available, and some people like to use both.
Mop and Bucket
Mops are a classic cleaning tool, both for in-home and business use. Consider carrying mop head replacements and mop and bucket sets.
Multi-Purpose Cleaner
Multi-purpose cleaners are very popular in homes for routine cleaning. Although the Coronavirus has made people more aware of disinfecting their home often, that hasn't rendered multi-purpose cleaners for everyday use obsolete. Consider stocking multi-purpose cleaners with pleasant scents, eco-friendly branding, and convenient spray bottles with refill bottles to save plastic.
What Import Taxes Should I Expect to Pay?
Import taxes vary depending on the country and the specific type of product. Since cleaning products usually contain some kind of chemicals, it's important to get familiar with any regulations or import taxes on the specific product you're shipping.
How to Find a Reliable Household Cleaner Supplier in China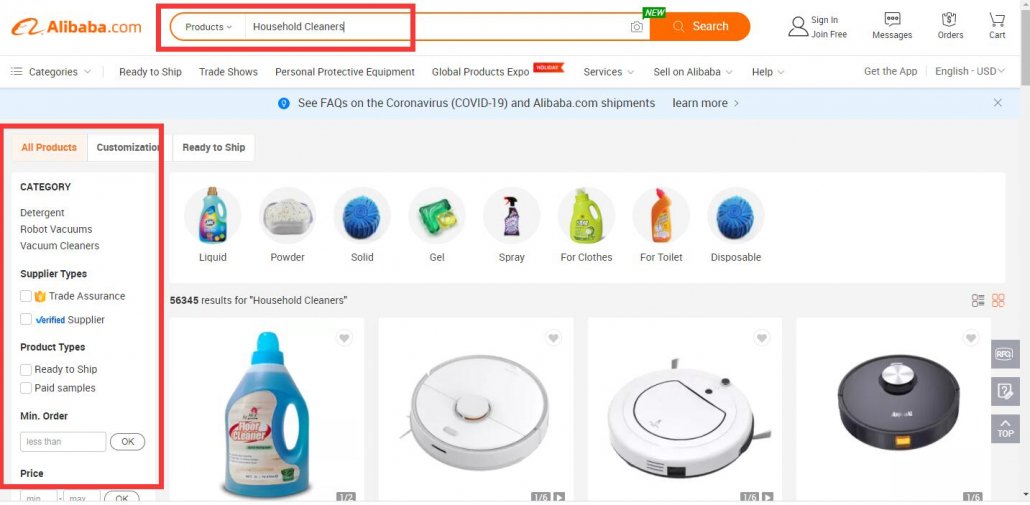 If you don't already have a China-based supplier in mind and don't know where to start, we recommend Alibaba.com and Made-in-China.com. These popular, reputable websites focus on connecting businesses with wholesalers. If you don't have existing connections in the household cleaner manufacturing industry in China, those are both great places to start.
The third method for you to find a reliable paper towel supplier in china is ask your freight forwarder to introduce their source to you. As you know they are located around China, so they should have many well cooperated suppliers for your reference.
The fourth method for you to find a reliable paper towel supplier in china that is ask China Sourcing company to help you. We can introduce top 50 china sourcing company for your reference after getting your request.
There are many other methods that can help you to find the right reliable supplier to ship household cleaners from China. Please don't hesitate to contact with us for the details.
How to Ship Household Cleaners from China
After finding the best supplier and choosing what country to import your product to, it's time to find the freight forwarder who can meet your needs.
Note that most household cleaners contain some amounts of chemicals. They may be classified as hazardous. Because of this, household cleaners may be subject to specific restrictions that can vary by carrier. Your freight forwarder can talk to you about these factors and will help you find the shipping method and carrier that's best in your situation. We recommend reading up on carriers' restrictions on certain chemicals and their general policies on hazardous materials.
What is the Best Shipping Method for Household Cleaners?
The best shipping method will depend on your shipment volume, timeline, and budget. Household cleaners like mops, sponges, and washcloths can normally ship using any method, so you can take your pick. Sea freight is generally the least expensive (but most time-consuming) option.
For household cleaners that contain chemicals, like cleaning sprays or bleach, the best method will depend on the ingredients of the specific products you're shipping and on the constraints in place by the shipping carrier. Talk to your freight forwarder about these questions and they'll be able to help you.
How to Find a Reliable Freight Forwarder in China
There are lots of freight forwarders based in China, but there's no need to spend hours comparing them. Instead, reach out to DFH Logistics for a free quote today. As a China-based company experienced in all kinds of shipments around the world, we can provide the knowledge and support you need for all your household cleaners shipments.
What Documents Will I Need to Ship Household Cleaners from China?
Customs documents vary depending on what household cleaners you're shipping and what country you're exporting them to. However, most shipments from China require these documents:
Commercial invoice
Bill of Lading
Air Waybill (if shipping by air freight)
Packing List
Pro forma invoice
Certificate of Origin
CITES Permit
Import/Export Declaration
CE Certificate
Single Administrative Document (SAD)
Fumigation Certificate
Since household cleaners are generally liquids and usually contain chemicals, take special care to check the regulations for importing the types of product you're shipping. You may need to provide additional documentation.
If you're still unsure what documents you need or need help preparing your required documents, contact us. We have years of experience handling shipping documents for all kinds of shipments  from China to all around the world, so we can help make sure your documents are completed correctly and prevent a headache at customs.
As the world's top exporter, China is well-positioned to be your source for all kinds of household cleaners and cleaning supplies. If you're hoping to offer your customers the best household cleaners during the Coronavirus boom, look no further. Get in touch with a manufacturer and freight forwarder that meet your needs, and you'll be ready to get into business.
Whether you have a supplier chosen already or are just starting to plan to offer household cleaners, DFH Logistics is here to help. Contact us for a free quote today. We'll talk about how we can make your shipping process a breeze.
Contact DFH Global Logistics for Best Rate
The Best Freight Forwarder in China